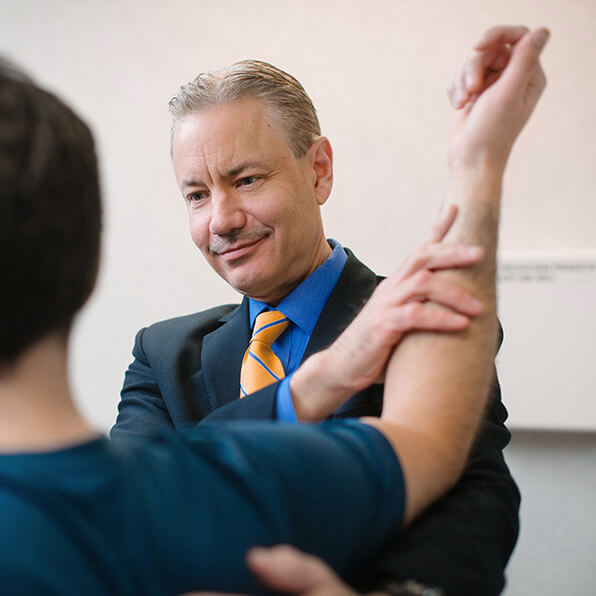 If you are injured, Mayo Clinic Sports Medicine specialists in PM&R can help restore your movement and function and provide interventions to optimize your performance and reduce your risk of re-injury. PM&R physicians provide non-operative treatment for musculoskeletal injuries, which include injuries to the joint, muscle, tendon, bone, or ligament. They also are experts in the use of musculoskeletal ultrasound, which can assess tendon and soft tissues without exposure to radiation, deliver regenerative medicine therapies, and provide greater accuracy for joint injections.
Our PM&R specialists in sports medicine work closely with a team of physical therapists, athletic trainers, sports nutritionists, sports psychologists, strength and conditioning specialists, and other sports medicine professionals to develop a treatment plan tailored to meet your unique sports and fitness related needs, abilities, and goals. They also work closely with Sports Medicine Center orthopedic surgeons to identify those patients who would benefit from surgical intervention rather than non-operative management.
Your PM&R team may offer treatment options to improve and optimize function and performance that include treatment modalities, therapeutic exercise, movement analysis, injection, or regenerative medicine therapies.
Medical conditions that PM&R sports medicine physicians treat include (but are not limited to):
Musculoskeletal injuries (pain of muscles, tendons, ligaments, joints, and bones
Spine pain (low back pain, neck pain)
Neurologic injuries affecting muscle function
Sports and fitness activity-related injuries
Concussion evaluation and management
Mayo Clinic PM&R sports medicine physicians are actively conducting research in areas including musculoskeletal ultrasound, regenerative medicine, concussion evaluation and treatment, sports movement analysis, strength and stability training, exercise compliance, exercise interventions for obesity and inactivity, and improving population health.