We've Expanded!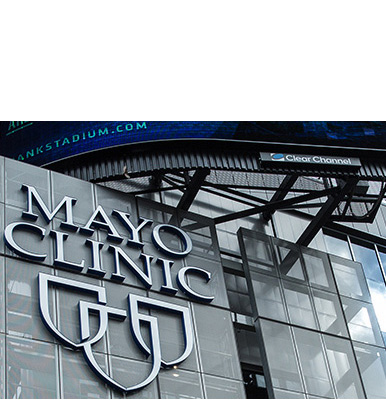 Mayo Clinic Sports Medicine has added space at Mayo Clinic Square to meet the growing demand for sports medicine services in the Twin Cities area.
Mayo Clinic Sports Medicine has expanded its services, space and other capabilities in Minneapolis through a 16,000-square-foot addition on the 2nd floor of Mayo Clinic Square. The additional space will provide more convenient and accessible sports medicine services to patients in the Twin Cities area.
Physician services and select radiology services will be located on the new second floor, while MRI, rehabilitation and performance services will remain on the third floor.
The expansion at Mayo Clinic Square will provide multiple benefits to patients in the Twin Cities:
More World-Renowned Experts
Additional access to internationally recognized Mayo Clinic Sports Medicine physician staff, with expertise in:
ACL injury prevention education and orthopedic reconstruction of multi-ligament injuries of the knee
The latest knee cartilage restoration procedures. Mayo Clinic is part of several clinical trials to bring some of the most promising treatments into the mainstream.
Care of surgical conditions including but not limited to elbow reconstruction, rotator cuff repair, and shoulder instability.
Specialized experience in surgical and non-surgical treatment of the athletic hip.
Non-operative sports medicine procedures to help the body heal itself quicker and more efficient. The impact to our athletes is a quicker return to play at the higher levels of performance possible at a lower cost.
More Access for Appointments
Additional sports medicine physician staff and the addition of fifteen new patient exam rooms will allow for more appointment availability.
More State-Of-The-Art Technology
Additional capacity will provide more access to Mayo Clinic Sports Medicine's state-of-the-art technology, which includes:
An advanced X-ray system that incorporates cone beam CT (and 3-D capabilities), fluoroscopy and fully robotic digital X-ray
A dual-energy X-ray absorptiometry system to measure bone density and body composition
A second suite for musculoskeletal ultrasound and regenerative medicine procedures, such as platelet-rich plasma and bone marrow aspirate concentrate injections, and minimally invasive ultrasound technology to treat chronic soft tissue and tendon damage
A biomechanics and movement analysis laboratory for sports medicine research
CALL TODAY TO SCHEDULE SERVICES: 612-313-0520