Diagnostic Imaging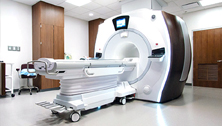 Doctors in the Department of Radiology at Mayo Clinic Sports Medicine provide a complete range of diagnostic and treatment imaging services to individuals of all ages and walks of life. Using state-the-art equipment – such as the 3T MRI magnet – a skilled team of specialists deliver caring, safe and efficient imaging services that are fully coordinated with each individual's medical care.
The 3T magnetic resonance imaging (MRI) magnet is twice as strong as a conventional MRI scanner, producing clearer images that offer more detail to aid an improved diagnosis—particularly for detailed structures such as ligaments, tendons and bones. Though it may be one of the Twin Cities' first dedicated sports medicine/musculoskeletal GE 3T wide bore MRI machines, Mayo Clinic has pioneered the use of this technology by working with GE to develop unique tests and tools that are specific to Mayo Clinic to ensure our exams are tailored to each individual.
Our radiologists perform and interpret more than 1 million examinations yearly. This large number of cases, integrated with ongoing research and education, results in broad expertise in the imaging and treatment of diseases affecting people of all ages.
Our diagnostic imaging services are available to all individuals, even if your healthcare need is not sports related.
Related Medical Departments
Learn more about Mayo Clinic's diagnosis and treatment imaging services.