Why EXOS?
Heritage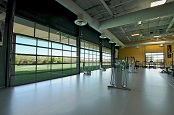 Mayo Clinic Sports Medicine is collaborating with the experts at EXOS to create healthier, more fulfilling lives for athletes, students and professionals.
As pioneers in human performance with proven results, EXOS empowers you to create a healthier and more fulfilling life by improving performance in multiple areas. EXOS systems train for focus, strength, movement mastery, nutrition, and endurance. It's an approach that dares you — and helps — you to meet new goals and function at higher levels.
We work in key life areas — sports, business, military. With EXOS, athletes of all levels raise their game. Business professionals experience gains in productivity and innovation that far exceed those of standard corporate wellness programs. Military members, both injured and well, receive training they need to excel.
All benefit from our hallmark methodology: education and research applied to calling forth the highest levels of human performance. We invite you to aspire to — and achieve — excellence with us or to enroll in our educational offerings to receive EXOS certification and lead by example.
EXOS Performance and Nutrition Programs
Performance Training
EXOS designs and delivers performance game plans that guide youth, high school, collegiate, and professional athletes to achieve higher levels of success. Their programs have supported World Series, Super Bowl, Stanley Cup, World Cup, and Olympic champions, as well as All-Stars, All-Pros, MVPs, All-Americans, and All-State athletes. EXOS performance programs include: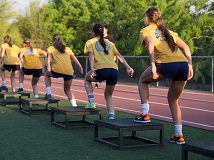 This program prepares youth and high school athletes to get the most out of their bodies, increase productivity, and decrease injury with strength, endurance, and flexibility. Appropriate for any athlete who wants to improve their performance, this program allows you to train with a schedule that works for you. Learn more.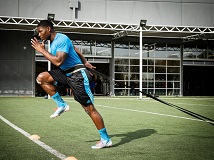 Designed to maximize your performance, this program focuses on building power, speed, quickness, and endurance specific to each sport and athlete, while decreasing the risk of injury. This program includes athlete-specific pre- and post-workout nutrition, state-of-the-art equipment, proven training methodology, and a focus on recovery. Learn more.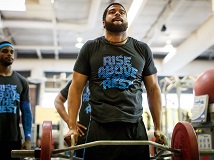 Elite / Professional
Combining proven methodologies, experienced coaches, a multidisciplinary approach, and state-of-the-art facilities, this program helps maximize performance on the field, court, ice, or track. Performance specialists, nutritionists, and physical therapists work together to provide a comprehensive and effective program.
Adult Training
Reach your goals with a personalized game plan from EXOS. Whether you want to boost energy, run a 5K, lose 10 pounds, or just feel stronger and healthier, EXOS can help you get there.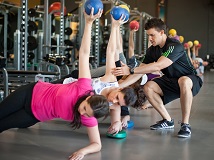 EXOS Rally
EXOS Rally is our fun and effective exercise classes led by our performance specialists. With class themes like Rally Energy, Rally Strength, and Rally Recovery, you can rally around a common goal — and have a blast doing it. Classes are offered five days a week.
For more information on EXOS Rally, click here.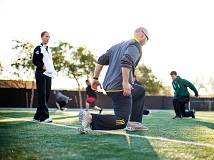 EXOS Elevate
This small-group, semi-private program is designed to propel you to higher levels of health and performance. It provides personal coaching in each of our four pillars of human performance — Mindset, Nutrition, Movement, and Recovery. EXOS Elevate nutrition services include pre- and post-workout nutrition, a full meal builder plan, and unlimited personal nutrition support.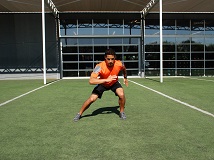 EXOS Experience
Using the same methodology and intensity employed by the pros, you'll take your training to the next level, meet your goals, and maximize your results. This one-on-one experience includes training plus three meals per day, pre- and post-workout nutrition, a full meal builder plan, and unlimited personal nutrition support. You'll also receive a membership to EXOS' web and mobile programs, which include fitness and nutrition programs, trackers, and content.
To schedule an appointment at Mayo Clinic Sports Medicine, please call 507-266-9100 for our location in Rochester, MN or 612-313-0520 for our location in Minneapolis, MN.

Testimonials
"I want to be the best, so I had to go see the best coaches to help me perform at my best, and that was EXOS."

Odell Beckham, Jr., WR, New York Giants, 2014 #12 overall pick
"My game has improved so much because of the EXOS system. I got stronger, I got faster, I felt my muscles were so much more productive. This has really taken my game to the next level."

Abby Wambach, USA Women's Soccer, 2X Olympic Champion
EXOS Programs in Minneapolis
If you're looking for our hours & available sessions for EXOS Rally, Elevate, Youth, High School and Collegiate Programs, call 612-313-0520.
EXOS Programs in Rochester
If you're looking for our hours & available sessions for EXOS Rally, Elevate, Youth, High School and Collegiate Programs, call 507-266-9100.
Nutrition Programs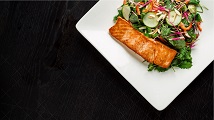 EXOS views nutrition as a way to fuel life goals, increase performance, speed recovery, and improve overall health. Research shows that changing eating habits begins with education. EXOS' team of registered dietitians will meet with you for a one-on-one nutrition coaching session to create a plan that supports your unique needs, goals, and lifestyle.
Phase 1 Performance Mentorship Training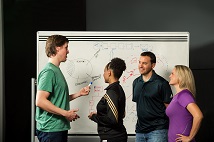 Take the first step to immersing yourself into EXOS' renowned methodology and systems with the Phase 1 Performance Mentorship. You'll learn directly from the world-class coaches that use this methodology and systematic approach to support top athletes around the world. Whether you're training elite or recreational athletes, you'll learn the skills and knowledge needed to raise your level of coaching.
Registration
To learn more about EXOS programs offered at Mayo Clinic Sports Medicine in Rochester, call 507-266-9100 or for the Minneapolis location, call 612-313-0520. To learn more about our EXOS Phase 1 Performance Mentorship, reference our course page.




Learn more about program payments and cancellation policies.