Regenerative Medicine
Regenerative medicine is a game-changing area of medicine with the potential to accelerate healing, repair damaged tissues, and improve pain and function.
The Regenerative Sports Medicine team at Mayo Clinic Sports Medicine Center study the body's ability to heal itself. Our specialists look at existing regenerative therapies and refine them to develop new ones.
Using innovative, ultrasound-guided procedures we can treat a variety of sports injuries and musculoskeletal conditions including, but not limited to:
Tendon injuries affecting the:

Ankle (e.g. Achilles)
Knee (e.g. "Jumper's knee")
Elbow (e.g. "Tennis elbow" or "Golfer's elbow")

Plantar fascia injuries ("Plantar fasciitis")
Ligament sprains
Arthritis and meniscal injuries
Our procedures are:
Minimally invasive
Use local (not general) anesthesia
Outpatient procedures
We utilize components that your own body creates to assist in your healing process.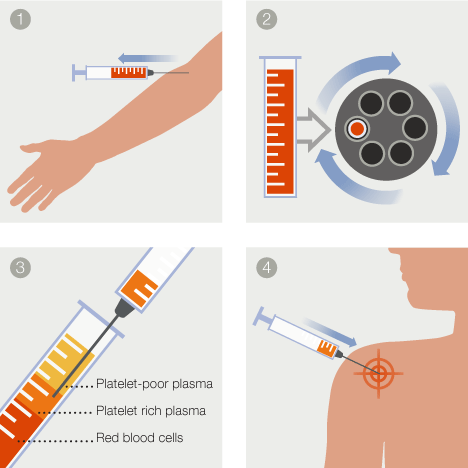 Platelet Rich Plasma (PRP): Using your own blood, we are able to isolate and concentrate your platelets that we then inject back into the injured area to modify inflammation and begin the healing process. Our quality control program ensures that our PRP preparations are consistent and high quality, and our PRP preparations can be individualized to meet your specific needs.

Stem Cells: We use the stem cell's capacity to regenerate tissues to help you heal. We are able to harvest stem cells using,

Bone Marrow: Your bone marrow contains stem cells as well as other potentially therapeutic cells. Stem cells are powerful, naturally occurring cells that can modify inflammation and promote natural healing. We obtain bone marrow from your pelvic bone, concentrate it to remove the unwanted portions, and inject it back into the injured area.