Concussion Treatment and Management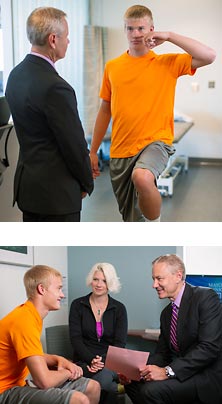 Mayo Clinic Sports Medicine currently provides concussion management services to all area high schools and colleges that we partner with through community outreach programs; in-turn helping athletes safely return to sport after a concussion. Each fall, we test thousands of athletes within Rochester and the surrounding area schools. We do offer baseline testing to any teams/organizations and individuals who are interested in this service.
Our Concussion Treatment and Management services include:
Pre-injury baseline testing to assess balance, memory, concentration and vision prior to injury
Computerized testing
Post-injury baseline testing to assess balance, memory, concentration and vision
We treat all individuals at risk for concussion, including but not limited to:
Athletes across sports and ability levels
Active individuals including adult league players
Coaches
Referees
Mayo Clinic Sports Medicine Center also partners with Mayo's Brain Rehabilitation Clinic to provide coordinated, multi-specialty care for injured athletes who experience lingering symptoms, helping them get back to school, work or play. Mayo Clinic's Traumatic Brain Injury Model System Center is one of only 16 academic brain rehabilitation practices in the United States funded by the National Institute of Disability and Rehabilitation Research (NIDRR).
The coordinated, multi-specialty services we provide include:
Medical evaluation with a Brain Rehabilitation physician
Concussion specific MRI or other radiological imaging, as indicated
Musculoskeletal evaluation and treatment (neck, back, etc.)
Balance/dizziness/vestibular evaluation and treatment
Headache and pain management
Sleep/fatigue management
Vision screening
Cognitive-communication rehabilitation
Neuropsychological evaluation (mood, cognition, behavior changes)
Psychometric testing
Concussion education
Care coordination and follow up referral to other Mayo Clinic sub-specialists as indicated (Headache Neurology, Sleep Medicine, Neuro-Optometry/Ophthamology, ENT/Balance, Psychiatry)
We are leaders in state-of-the-art concussion screening
In February 2015, Mayo Clinic helped improve the delivery of appropriate concussion care to athletes with a new, easy-to-use and affordable concussion screening test available through its licensing agreement with King-Device Test Inc. Called the King-Device Test in Association with Mayo Clinic, the screen evaluates ocular motor, visual and cognitive function and other symptoms of concussion. It can be administered on the sidelines by parents, coaches, athletic trainers, school nurses and medical professionals. To learn more, visit kingdevicktest.com.