Community Outreach
Mayo Clinic Sports Medicine Center is proud to provide athletic training services to several area high schools, colleges and local sports teams within an hour's radius of Rochester, MN.
Our athletic trainers play a significant role in the management, prevention, recognition and rehabilitation of injured athletes. Under the supervision of a licensed physician, our trainers administer immediate emergency and follow-up care. We develop athletic injury prevention and treatment programs using their knowledge of biomechanics, anatomy and pathology.
Our trainers also provide a vital communication link between the injured athlete, the physician, the coach and sometimes the athlete's family to determine when it's right to return to practice and competition.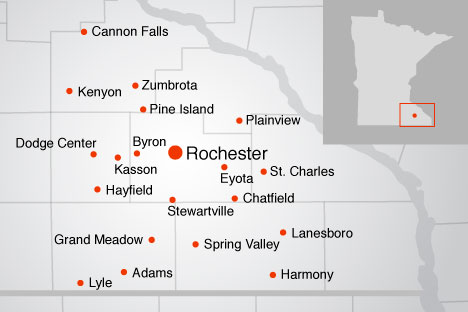 Athletic training services
To learn how Mayo Clinic Sports Medicine Center can provide athletic training services to your school, whether you're located in southeastern Minnesota or the Twin Cities metro area, please call 1-507-266-9100 for more information.
High Schools & Colleges:
Byron High School
Cannon Falls High School
Century High School
Chatfield High School
Crossroads College
Dover-Eyota High School
Fillmore Central High School
Grand Meadow High School
Hayfield High School
John Marshall High School
Kasson-Mantorville High School
Kenyon-Wanamingo High School
Kingsland High School
Lanesboro High School
Lourdes High School
Lyle-Pacelli High School
Mayo High School
Minnesota Icehawks
Pine Island High School
Plainview-Elgin-Millville High School
Randolph High School
Riverland Community College
Rochester Amateur Sports Commission
Rochester Community and Technical College
Southland High School
St. Charles High School
Stewartville High School
Triton High School
Zumbrota-Mazeppa High School
Area Amateur Teams:
Area Organizations/Event Groups
First Bank/Rotary Basketball Holiday Tournament
Kiwanis Hockey Holiday Tournament
NCJAA Regional/National Tournaments
Sertoma/Home Federal Hockey Tournament